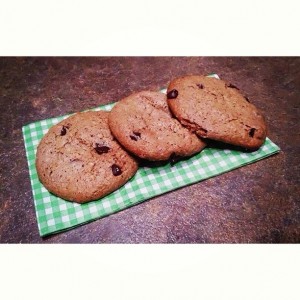 Print
High Protein Chocolate Chip Cookies (grain-free, refined sugar-free, gluten-free) SO Good!
Yield 12-18 cookies
So, these HAVE to be one of my most favorite cookie recipes yet.
Grain, gluten, refined-sugar and dairy-free (if you use dairy-free chocolate chips of course) mean that these cookies are a great snack anytime to boost your energy and satisfy your sweet-tooth. I may, or may not have had one for breakfast today…… 🙂
Enjoy!
Ingredients
1 cup almond butter
1/3 cup honey (or 1/2 cup if you like it a bit sweeter)
1 egg
1 Tbsp. vanilla extract
1/2 tsp. baking soda
1/4 tsp. baking powder
1/2 tsp. salt
1/2 cup dark chocolate chips
2/3 cup unsweetened shredded coconut (or if you prefer, replace with chopped nuts)
Instructions
Preheat oven to 350 degrees.
Oil baking sheets or line with parchment paper.
Stir together first seven ingredients. Mix well. Make sure honey is fully incorporated.
Add dark chocolate chips and coconut.
Scoop with a cookie scoop onto cookie sheets. Bake 8-13 minutes or until lightly browned. They grow as they bake – added bonus!