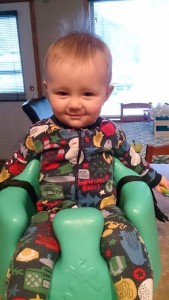 Print
Chicken Soup
Yield 6 Servings
My youngest was sick last week.  He didn't want to eat or drink much of anything, so after a day of him refusing most of his favorites I decided to make him some chicken soup – everyone loves chicken soup when they are sick, right?!
Well he loved it so much I ended up making 2 batches in 2 days.  Mommy win!  The best part is that it was so darn easy – throw it all in my slow cooker, and a few hours later it's ready.  Just what I needed when I had a little one clinging to me all day.  We all ate it and loved it, so it's really and enjoy it anytime kind of meal.
Here's the face after he was stuffed with healing soup (bed-head and all!) – can't get much sweeter, can it?  🙂
Here's the recipe:
Ingredients
1 lb chicken breasts (preferably organic, and not frozen), cut in half if large
1/2 small onion, or 1 large shallot, chopped
2 carrots, chopped
2 organic celery stalks, chopped
2 cloves garlic, minced
1 1/2 tsp salt
1/2 tsp pepper
1/2 tsp dried thyme
1/2 tsp dried sage
1 large bay leaf
2 Tbsp butter or coconut oil
6 cups chicken broth
3/4 cup wild rice/brown rice blend (I use Lundberg Farms brand from Costco)
Instructions
Add all ingredients t a 6-quart slow cooker.  Cook on low for 4-5 hours, or until chicken is cooked and rice is soft.
Shred chicken, then stir back into the soup.  It will thicken as it cools.
Courses Supper