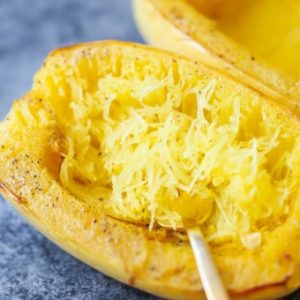 Print
Spaghetti Squash Burrito Bowls
Yield 2 Servings
It's time for spaghetti squash again, and this is definitely one of my favourite recipes to make with it!
Ingredients
1 

Spaghetti Squash (medium)

1 1/2 tbsps 

Extra Virgin Olive Oil (divided)

1/2 lb 

Extra Lean Ground Turkey

1 

Red Bell Pepper (diced)

1 tbsp 

Chili Powder

1 1/2 tsps 

Cumin

1 1/2 tsps 

Oregano

1 tsp 

Garlic Powder

1/4 tsp 

Sea Salt

1/4 cup 

Red Onion (finely diced)

1 

Tomato (diced)

1/2 

Avocado (cubed)

1/4 cup 

Cilantro (chopped)

1/2 

Lime (sliced into wedges)
Instructions
Preheat oven to 350F and line a baking sheet with parchment paper
Using a sharp knife, very carefully split the spaghetti squash in half lengthwise and scoop out the seeds with a spoon. Brush the inside surface with half the olive oil, and place face-down on the baking sheet.
Bake squash for 40 minutes, until it is easily pierced with a fork.
While the squash is baking, heat remaining olive oil in a skillet. Add the turkey and cook until it begins to brown. Break it up with a spatula as it cooks through. Add the diced pepper, spices and salt. Continue cooking for about 10 minutes, or until turkey is thoroughly cooked.
Spoon the turkey filling into the each half of the spaghetti squash. Top with diced red onion, tomato, avocado, cilantro and a squeeze of lime juice.
Notes
Use black beans instead of ground meat.
Refrigerate in an air-tight container up to 2 days. Reheat before serving.