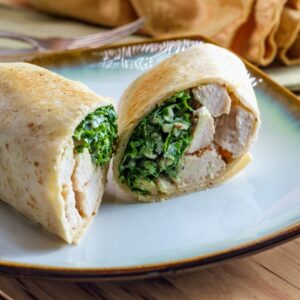 Print
Chicken Caesar Wraps
Yield 4 Wraps
These wraps have become a favourite in our house for a quick & easy Summer meal. 
I like to cook my chicken in the Instant Pot for about 13 minutes, but it is great BBQ'd or cooked in the oven as well.
Ingredients
2 Chicken Breasts (cooked and shredded or cubed)
Homemade Caesar Dressing (Here's our favourite recipe)
Wraps (I like multi grain, brown rice, or protein up wraps)
Chopped Lettuce (Romaine, Spinach, Kale or Green Leaf are my favourites)
Toppings:
Add in your favourite toppings! Some of our favourites are:
Shredded Cheese
Chopped Tomatoes
Chopped Peppers
Avocado
Chopped Onion
Instructions
Add the chopped chicken, lettuce & dressing (approx 1-2 Tbsp) to a wrap.
Add other favourite toppings, fold and Enjoy!