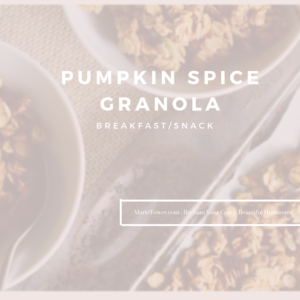 Print
Pumpkin Spice Granola
Yield 12 Servings
A delicious pumpkin treat for your breakfast or snacks!
Ingredients
3 cups Oats (rolled)

1 cup Walnuts (chopped)

1/2 cup Pumpkin Seeds

1/4 cup Ground Flax Seed

1/4 tsp Sea Salt

3/4 tsp Pumpkin Pie Spice

1/2 tsp Cinnamon

1/4 cup Coconut Oil

1/3 cup Maple Syrup

1/3 cup Pureed Pumpkin
Instructions
Preheat oven to 350ºF (177ºC) and line a baking sheet with parchment paper.
Mix the oats, walnuts, pumpkin seeds, ground flax seed, sea salt, pumpkin pie spice and cinnamon together in a large bowl. Stir well to mix.
In a pot, combine the coconut oil, maple syrup and pureed pumpkin. Place over medium-low heat and whisk until all ingredients are well distributed and it is warmed through (about 2 to 5 minutes). Pour it over the dry ingredients and mix with a spatula. Spread across the baking sheet and bake for 25 to 30 minutes, or until golden brown. Rotate the pan at the halfway point. (Note: Don't stir as this will break up the clusters.)
Remove the granola from the oven and let cool completely. It may seem wet, but it will crisp up as it cools.
Divide into bowls or store sealed in a jar until ready to use. Enjoy!
Notes
Leftovers
Stores well in an airtight container up to a week. Freezes well for longer.
No Walnuts
Use pecans or slivered almonds instead.
Nut-Free
Skip the nuts and add extra pumpkin seeds.
Serve it With
Oatmeal, yogurt, almond milk and/or chopped apples with cinnamon.
Optional Add-Ins
Raisins, dried cranberries, berries or coconut flakes.
Courses Breakfast