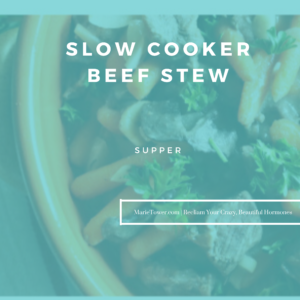 Print
Slow Cooker Beef Stew
Yield 6 Servings
The Fall is a great time to throw a stew in your slow cooker!
Ingredients
2 tbsps Extra Virgin Olive Oil

2 lbs Stewing Beef (sliced into bite-size pieces)

1/4 cup Red Wine Vinegar

2 cups Baby Carrots

1 Sweet Onion (diced)

2 1/2 cups Mushrooms (sliced)

1 cup Beef Broth

1/2 tsp Dried Thyme

1 tsp Sea Salt

1/2 tsp Black Pepper

1/4 cup Brown Rice Flour
Instructions
Add all ingredients except the brown rice flour to the slow cooker and mix well. Cover and cook on low for 4 to 6 hours, or until beef is tender.
Remove lid and stir in brown rice flour. Continue to stir until liquid thickens.
Ladle into bowls and enjoy!
Notes
Leftovers
Store in the fridge up to 3 days or freeze.
More Carbs
Serve it with roasted potatoes, rice or quinoa.
Add Greens
Stir in chopped kale or baby spinach just before serving.
Courses Dinner