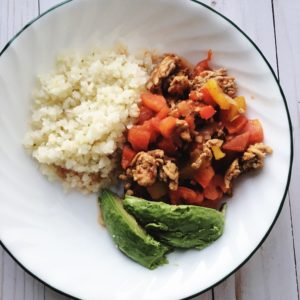 Print
Turkey Taco Skillet With Cauliflower Rice
Yield 4 Servings
This is a quick meal that my whole family loved. I made some brown rice on the side for my kids, but used the cauliflower rice for me. It was delicious!
Ingredients
1 tsp Avocado Oil

1 lb Extra Lean Ground Turkey

1/2 Yellow Onion (chopped)

1 Red Bell Pepper (diced)

1 Yellow Bell Pepper (diced)

1 tbsp Chili Powder

1 tsp Paprika

1 tsp Cumin

1/4 tsp Sea Salt

1 3/4 cups Diced Tomatoes (from the can)

5 cups Cauliflower Rice

1 Avocado (sliced, optional)

1/4 cup Cilantro (chopped, optional)
Instructions
Heat a skillet over medium heat and add the avocado oil. Add the ground turkey, onion, red bell pepper, yellow bell pepper, chili powder, paprika, cumin, and sea salt. Cook for 10 to 15 minutes or until cooked through. Add the tomatoes, stir well and remove from heat.
Divide the cauliflower rice into bowls then top with the turkey, avocado and cilantro. Enjoy!
Notes
Cauliflower Rice
Can be served raw or cooked. To cook your cauliflower rice, saute in a skillet for 5 to 7 minutes before serving.
Vegan & Vegetarian
Use cooked lentils instead of ground turkey.
Save Time
Use pre-riced cauliflower.
Dairy-Lover
Top with Greek yogurt or grated cheese.
Leftovers
Store in the fridge for up to three days.
No Avocado Oil
Use coconut or olive oil instead.
Courses Supper