ARE YOU READY TO START LIVING YOUR BEST LIFE WITHOUT ALL OF THOSE CRAPPY SYMPTOMS HOLDING YOU BACK?
Are you sick of low energy, mood swings, weight gain, anxiety, trouble sleeping, irregular or heavy periods, PMS, hot flashes, irritability, or any of the other symptoms that just won't go away?
Are you tired of being told it's 'all in your head' - or that 'everything is fine' when you KNOW it isn't?!
Guess what - it may just be your hormones!
In IGNITE Your Hormones you'll find out how your hormones may be the culprit. You'll learn that they may be creating uncomfortable symptoms (some you may not even realize are there!), and that even though these symptoms are 'common', they are not 'normal'. You don't have to live with them anymore!
You'll find out what hormones are most out of balance for you - AND learn my step by step approach for bringing balance back - which means you get to feel good in your body again!
Never wonder what's going on with your body again...
1. Join today
2. Learn all about your hormones, and receive the exact tools I've successfully used in my 1:1 practice for the 10+ years I've been working with women like you to help them feel good again.
3. Watch your energy levels soar, and feel like you've got your health, and body under control again!
What if:
You knew how to give your body what it needed, so that you can feel good again?
You understood how your hormones may be holding you back - and what you can do about it?
You stopped spending hours searching for answers to your symptoms.. or at your Doctor as they dismiss how you are feeling?
You started feeling happy again? More comfortable in your body?
You began to notice that life didn't feel so overwhelming anymore?
You saw real positive change happening in your body, and how you feel?
You started loving your life again - without being held back by your body, mind or emotions?
REGISTER
Register below and start your 6 months now! This program is designed for you to jump in and get going right away, so you don't have to wait to start feeling great again!
LEARN
Each month a module will be delivered to you via my private client portal. Go through it at your own pace, and ask questions whenever you want - I'm always here to listen to you via the group private Facebook page, a private message, or at our live Q&A every month.
ENJOY
Enjoy living your life again - really living it - as your body, mind & emotions balance with your hormones!
Here's what my clients are saying:
★★★★★ 5 Star Review! ★★★★★ Marie's Ignite your Hormones program is the exact thing I needed.
I messaged her and told her of my painful joints, bad skin, extreme fatigue, constant weight gain, horrible menstrual issues and just over all poor health.
She told me about her program and I signed up immediately! She is knowledgeable and caring and at no time did I feel judged or on my own. She is very supportive, answering any questions almost immediately, and providing advice on anything that may be added or removed from my diet.
She provides detailed menus and regular meetings to support the new chapter. This is not a diet, it is a way of life! I have removed a few things completely from my diet that I never realized were so bad, and I am feeling so much better! With all of the knowledge, tools and support, she does not charge enough! -- Kim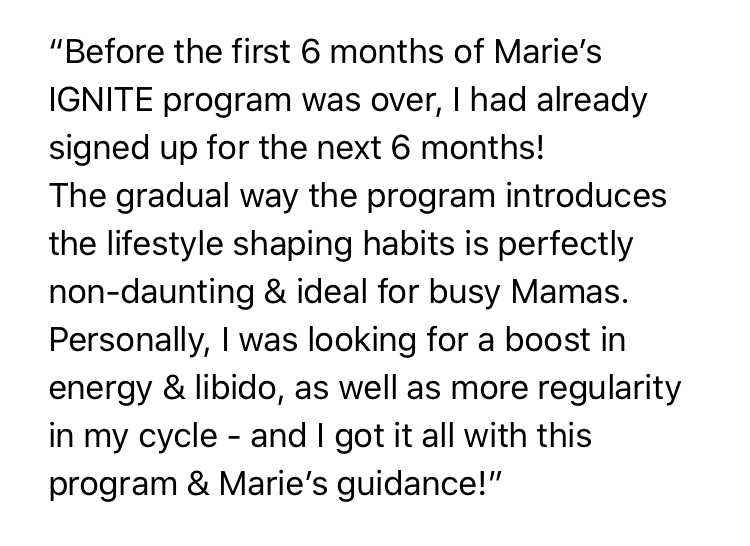 We've all tried forcing and starving our bodies into feeling better.
How about finally listening to your body, and giving it what it needs instead? How about addressing the underlying trigger - your hormones.
By Saying Yes, You Will Get...
1 group video call each month where I will teach you about various hormone-related topics (replays will be available).
 A second group video call each month to check in and for any Q&A you may have
 I will be walking you through 6 months of manageable steps that you can take to start seeing real changes.
 Access to my private Facebook group where I will be to answer any questions, and where you will find a community of women going through the same things
 1 Meal plan and grocery list and 1 recipe book (plus loads of extra yummy recipes) each month for you to use if you want. These are geared to help keep your energy & metabolism soaring!
 Fun challenges
 Weekly check-ins to see if you have any concerns, and to keep you seeing success faster.
 Handouts, worksheets & articles that will help support your goals & success
 All program information will be accessed via my private online client portal
  3 bonus modules of your choice, customized to your needs: topics include weight loss, anxiety, gut health, stress, skin care, PCOS, boosting energy, immunity, managing moods, and more!
✔ Learn my step-by step plan for balancing hormones for weight loss!
  My Hormone Eating Plan
Absolutely NO judgement, or negativity
✔  No weighing or measuring food
✔  No starving
✔  No counting calories
✔  No fighting with your body anymore
✔  Just loads of support and understanding.
The FULL program is just $71/month for the 6 months
OR
a one time payment of $423!
I know you have questions. Here are the FAQ's.