I KNOW how hard is to live your life when you are exhausted, when your body isn't working the way it used to, or your emotions are all over the place.
The women I work with are looking to be supported & understood.
You want to be heard, and not judged.
You want to feel good in your own skin and have the energy to keep up with your crazy beautiful life - whatever that looks like to you.
All you really need is a plan that is customized to YOUR body, YOUR symptoms, & YOUR hormones. 
When you work with me  1:1 you'll get guidance based on what your body needs right now.
No two people are the same, and your wellness & hormone plans shouldn't be either!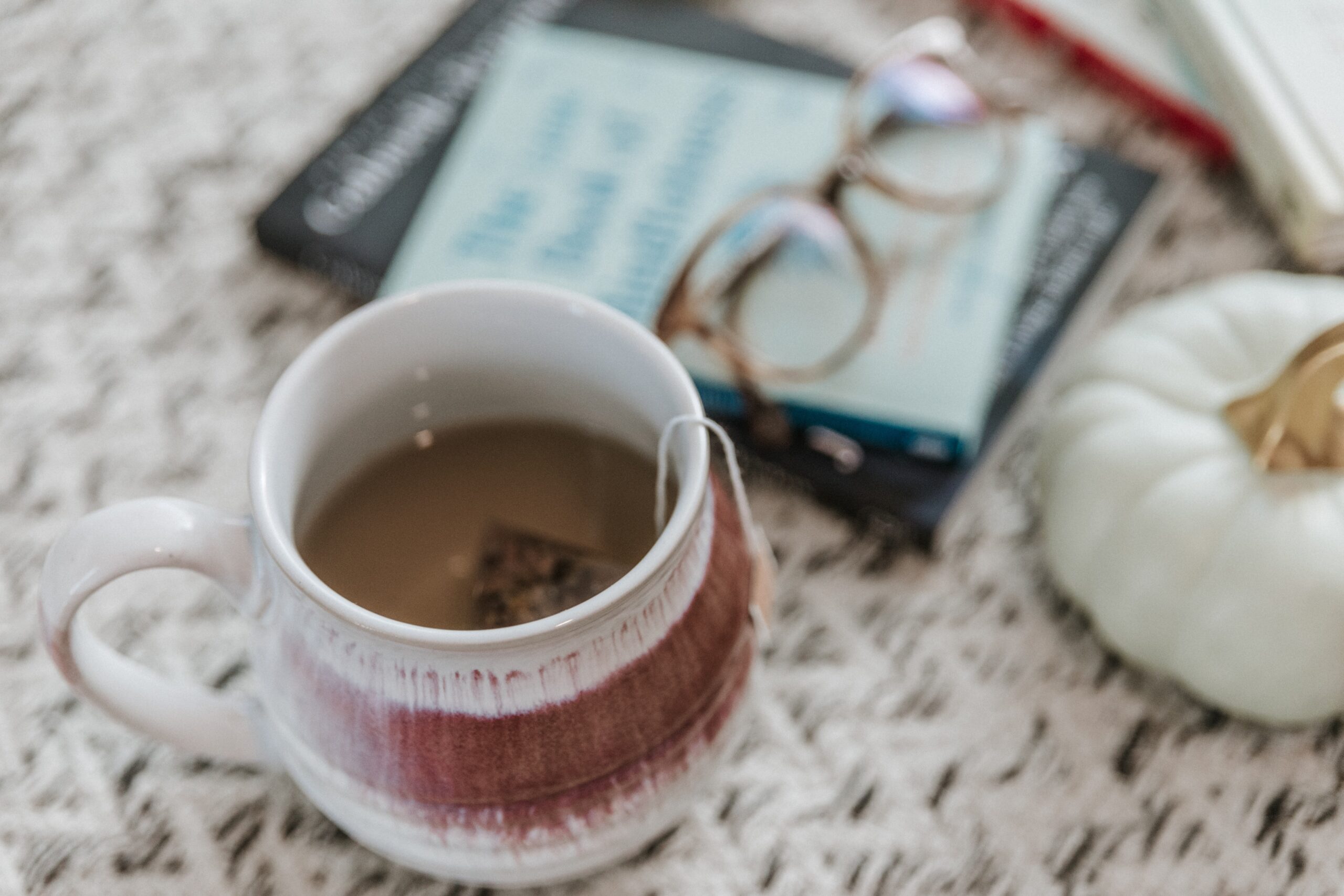 Never worry about wading through all the nutritional information out there again wondering what you should try next.
1. Contact me to claim a spot on my current 1:1 list.
2. Fill out my intake form online that will be sent to you.
3. Sit back, and relax with a cup of tea - knowing that I've got your back, and will be creating a plan specifically for your needs.
What if:
You knew how to feel great again?
You understood how to listen to your body, and what it's telling you so you can see the changes you want?
You stopped spending countless hours searching, and so much money on diets, pills, or shakes that don't work for YOUR body?
You started feeling supported instead of alone?
You began to notice that your body is finally responding the way you've wanted it to?
You saw real changes in your energy, and how you feel both physically, mentally & emotionally?
You started living your life again - without feeling held back by your body?
MEET
We will sit down together, either in person, video, or phone.
I listen to you, to your past and current health concerns, and start creating a plan to get YOU feeling your best!
LEARN
During our appointment, I will be teaching you about your hormones, and why you may be experiencing the symptoms you have - AND what you can start doing to feel good again.
We will talk about certain delicious foods that can help, as well as what small steps you can take every day to see positive changes.
ENJOY
Once we have come up with your plan,  you get to enjoy your new-found energy, and start really living again!
You can feel confident that you no know what is going on in your body, and you have the tools to feel good!
Here's what my clients are saying:
★★★★★ 5 Star Review! ★★★★★
I first met Marie when I was about 7 months postpartum. I was frustrated with how my mind and body were feeling. Marie listened and made a plan for my hormones that was specific to the uniqueness of my own body. Since I have started working with her I have seen significant changes in the way I feel. Marie was a saving grace and continues to be for myself and many of my frirends. Marie is knowledgable, genuine and the one of the most caring people I have met.
-- KALA
I have been working with Marie for the last year and have nothing but amazing things to say about her. I've had to completely cut out both gluten and dairy, which was super challenging, and I don't think I could have done it without her. Marie is very understanding, supportive, and most importantly - not judgmental at all if I went off course a bit. Outside of being such a kind person, she is a wealth of knowledge and great at adapting to my needs. She is always there when I have questions or struggling, but not pressuring me if life gets in the way. I can say without a doubt that reaching out to Marie was the best thing I've done for myself, both physically and mentally, and think everyone should have Marie in their life 🙂
-- ERIN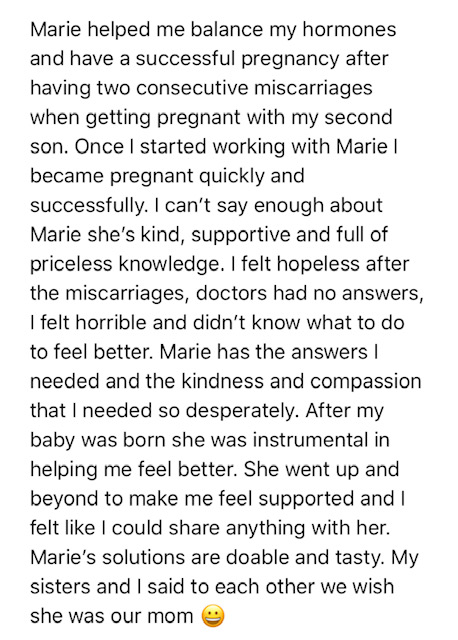 By Saying Yes, You Will Get...
A detailed look at what's going on with your health & hormones right now. I have many different hormone questionnaires, as well as other tools to get a clear picture so we know where you are starting.
Guidance & recommendations to get you on track, and feeling great again. I take all of the guess work out of it for you!
Recipes, personalized meal plans, and other meal ideas that will taste great!
My 10+ years of experience working with Women just like you!
Support! I check in with my clients weekly, and I'm always here for you to reach out and ask me questions.
Understanding. I have lived so much hormonal chaos throughout my life, that I truly do understand what you're going through.
Encouragement. I'm here to be your biggest cheer leader. You don't have to do this alone.
My initial consultation is $95 for 90 minutes.
Follow up sessions are $85.
I have a 4-session special that includes the initial consultation, 3 follow up sessions, 4 personalized meal plans/recipe books and unlimited support between for $349.
I know you have questions. Here are the FAQ's.