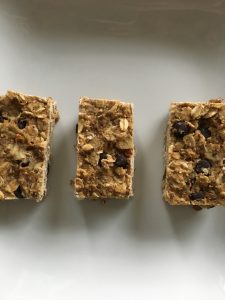 Print
Chocolate Chip (Lentil!) Granola Bars
Yield 20 Bars
Most of us tend to love chocolate chip granola bars. They are quick & easy to grab on the go, and sort of look healthy, right?
The problem with most granola bars you can buy is that they are really don't have that much nutrition in them. What they DO have is lots of sugar, refined/processed ingredients and chemicals, with some added oats and maybe some nuts thrown in for good measure. 
These granola bars have loads of protein, real food ingredients, and only uses natural sugars. Plus they have chocolate chips, so your kids will love them too. 🙂
PS - they won't taste the lentils at all - either will you!
Ingredients
1 cup red lentils
2 cups water
3 1/4 cups rolled oats
3/4 cup flour (I used whole grain)
1/4 cup ground flax
1/4 cup unsweetened shredded coconut
3/4 cup raw almonds, coarsely chopped
2/3 cup natural peanut butter
1/2 cup honey
1/4 cup maple syrup
2 tsp vanilla
1 tsp cinnamon
3/4 tsp sea salt
1 cup dark chocolate chips
Instructions
Combine water and lentils in a saucepan and bring to a boil. Reduce to a simmer (uncovered) for 20-25 minutes. Drain excess liquid and allow to cool.
Preheat oven to 350F
Combine oats, flour, flax, coconut, almonds, cinnamon and salt in a large mixing bowl and whisk together until well blended.
In a separate large bowl, combine lentils, peanut butter, honey, maple syrup, and vanilla. Blend with a hand blender or manually with a whisk.
Combine wet and dry ingredients and mix until just blended. Add chocolate chips and mix well.
Transfer the mixture into a greased 9″ X 13″ baking pan and bake for 25 minutes or until golden brown on top
Allow to cool, cut into bars and serve!
Courses Snacks