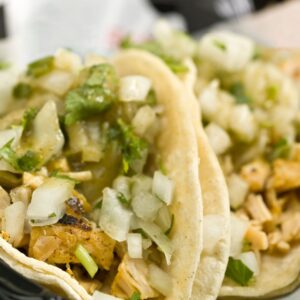 Print
Instant Pot Chicken Tacos
Yield 6 Servings
This was a quick & easy supper that we all loved here - perfect for Taco Tuesday! 
Ingredients
4-6 frozen chicken breast portions
1 cup chicken stock or water
1 tsp salt
½ tsp pepper
1 tsp chili powder
1 Tbsp Cumin
4 cloves garlic
2 small white onions
Mini Corn Tortillas
Fresh cilantro, chopped
Lime, optional
Instructions
Place frozen chicken in Instant Pot and pour chicken stock over top. 
Mix spices to combine, and sprinkle over chicken. 
Peel and halve one onion, and peel garlic. Add to Instant Pot.
Cook on high pressure for 15 minutes. Meanwhile, dice the additional onion and finely chop cilantro.
Remove chicken from pan, leaving onion and garlic. Dice or shred chicken. 
Toast tortillas on a griddle until heated and flexible. 
Top with chicken, diced onion, and chopped cilantro. Squeeze a bit of lime juice on each taco if desired.