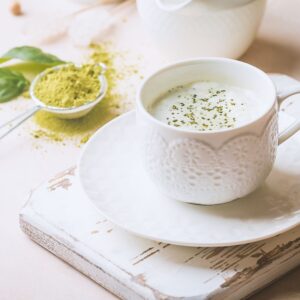 Print
Mint Protein Matcha Latte
Yield 1 Serving
Here's a secret about me - matcha lattes are my weakness. I'm not a coffee drinker, but I do love a good matcha!
This latte has taken some trial and error, but is OH so worth it now! I have it pretty much every morning, and it's my 'happiness in a cup'.
Ingredients
1 3/4 cup almond or oat milk
1 tsp matcha powder
1/2 tsp peppermint extract
1 Tbsp pure maple syrup (or to taste)
1/2 Tbsp - 3/4 Tbsp almond butter
3/4 Tbsp hemp seeds
Instructions
Warm almond or oat milk in sauce pan. 
Throw everything else in your blender, add the milk when warm, and blend until creamy/frothy.
Pour into your favourite mug, and enjoy!