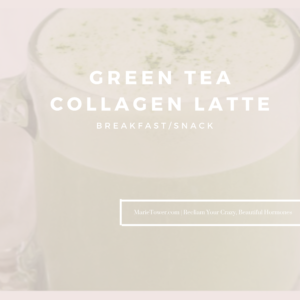 Print
Green Tea Collagen Latte
Yield 1 Serving
Adding more green tea into your life can be a great step - high in antioxidants, great for energy, and even one way to gently boost your metabolism - I love green tea! This Green Tea Collagen Latte has you covered - and tastes delicious! I had one this morning, and just love it! It's also a great way to get some healthy fats in with the coconut oil. Plus, collagen is great for your hair, skin & nails... so it's just a big win!
Ingredients
1 1/4 cups Unsweetened Almond Milk

1/3 oz Collagen Powder

1 tsp Green Tea Powder (Matcha)

1 tsp Maple Syrup

1 tsp Coconut Oil
Instructions
Heat the almond milk in a small pot over medium-high heat until the milk is warm, about 3 to 5 minutes.
Transfer the warmed milk to a blender along with the remaining ingredients. Blend for about a minute until well combined and very foamy.
Pour into a mug and enjoy!
Notes
Nut-Free
Use a nut-free milk instead, like coconut or oat.
More Flavor
Adjust the maple syrup according to preference.
Additional Toppings
Sprinkle with additional green tea powder to serve.
Make it Vegan
Omit the collagen powder.
Courses Breakfast